Reverberation (2023)

Reverberation
is an experimental film that centres on Yau Ma Tei—a district in Hong Kong that was home to various independent art and cultural spaces in the 2010s and was also where the filmmaker began her practice. By overlapping new and archival images, the film delves into layers of memories to capture complex emotions about this district as well as the city as a whole.
The film is commissioned by M+ museum as part of their Hong Kong as Mise-en-scène initiative.
Watch online at this link
.
If I Can't Dance (2022)


She faces endless rehabilitation; her body keeps recalling the injury; she wishes to appease, yet she fell... Three dancers who have confronted injuries filled the visual with strain on the body. Collaborated with dancer and choreographer Jennifer Mok, the film ponders how to co-exist with the trauma and keep going after one's world falls apart.

If I Can't Dance is co-commissioned by City Contemporary Dance Company, Jumping Frames – Hong Kong International Movement-image Festival and Renaissance Foundation Hong Kong.
Memory Palace (2021)


Memory Palace is a moving image work exploring memories attached to the personal objects of ethnic Chinese people in Manchester. These objects tell extremely personal stories that reflect the complexity of living between two worlds and navigating multiple identities, not only as an ethnic Chinese person living in the UK, but also as an LGBTQ individual, senior citizen, adoptee, artist, Eurasian, or first-generation immigrant. The work challenges conventional understandings of the Chinese community, questioning what it means to be an ethnic Chinese individual in this city and highlighting the great spectrum of identities beyond nationality.

Memory Palace was filmed in 2020 with the support of British Council Hong Kong, Phillips Auctioneers and Centre for Chinese Contemporary Art.

Festival Selection:
- Selected for International Queer & Migrant Film Festival 2022, Amsterdam, the Netherlands, Mar 2022
- Selected for Hong Kong Film Festival UK, London, UK, Mar 2023

Screening:
- Screened at SPARK Festival, Hong Kong, Oct 2021
- Screened at Stories from the Periphery, bi'bak, Berlin, Germany, Mar 2022- Screened at Longing for Something…, HK.kino.berlin, Brotfabrik Berlin, Berlin, Germany, Apr 2023

Exhibition:
- Exhibited at (Homing, or) Adverse Possession, Keepsake Project, London, UK, May 2023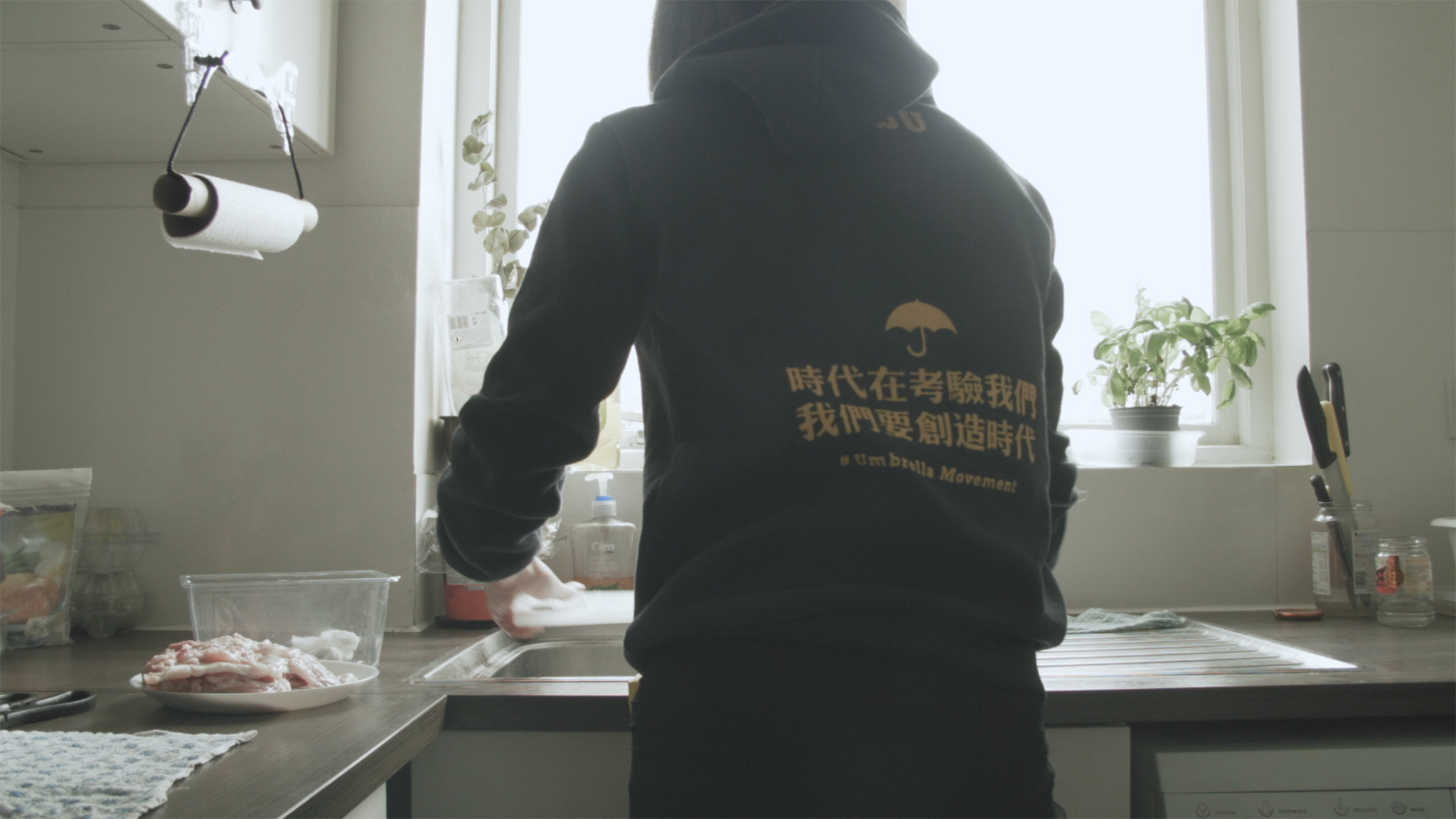 Home, and a Distant Archive (2020)


Home, and a Distant Archive is a poetic portrait of four Hong Kong women aboard in London, who volunteered for retrieving and digitising the UK records of the handover agreement between the United Kingdom and China, and their thoughts on identity, diaspora and their home at this troubled time. The film is a resonant, poetic, deeply personal, yet expansive reflection, bringing into sharp relief the political and existential moment we are in. (24'13")

Festival Selection:
- Selected for 49th International Film Festival Rotterdam, the Netherlands, Jan 2020 - Selected for Documentary Competition on Human Rights at 8th Festival Internacional de Cine Documental de Buenos Aires, Argentina, Sept 2020 - Selected for the Cinema Versa Documentary Short Film Programme at 34th Leeds International Film Festival, UK, Nov 2020 - Selected for 23rd Montreal International Documentary Festival, Canada, Nov 2020 - Selected for 10th Balneário Camboriú International Film Festival, Brazil, Nov 2020 - Selected for 15th Jogja-NETPAC Asian Film Festival, Indonesia, Nov 2020
- Selected for 26th ifva Awards Short Film Open Category finalist, Hong Kong, Mar 2021
- Selected for International Competition in 9th Liberation DocFest 2021, Bangladesh, Apr 2021
- Selected for 12th Taiwan International Documentary Festival, Taiwan, Apr 2021
- Selected for Psarokokalo International Short Film Festival 2021, Greece, Jun 2021
- Selected for Voices of the Ground Short Film Festival, Germany, Sept 2021

Screening:
- Screened at Singapore International Film Festival New Wave Programmme, Singapore, Oct 2020 - Screened at Centre for Chinese Contemporary Art, UK, Mar 2021




A Room of Oblivion (2019)
A Room of Oblivion
is an experimental film reflecting on the notion of queer memories, and the failure of it through rediscovered footage taken in a journey with an ex-partner.
Festival Selection: - Selected for 23rd
Queer Lisboa
, Portugal, Sept 2019
- Selected for 35th
Ljubljana LGBT Film Festival
, Nov 2019
- Selected for
Spain Moving Images Festival 2020
, Spain, Oct 2020
- Selected for
Interface Video Art Festival 2020
, Croatia, Dec 2020- Selected for
Thessaloniki Queer Arts Festival 2021
, Greece, Jun 2021 - Selected for
17th annual Queer Women of Color Film Festival
, United States, Jun 2021- Selected for
Queer East Film Festival 2022
, United Kingdom, May 2022- Selected for
2022 non-syntax Experimental Image Festival
, Taiwan, Jun 2022
- Selected for
2022 Bangalore Queer Film Festival
, India, Jul 2022- Selected for
Experiments in Cinema
, Albuquerque, US, Apr 2023
Screenings/Exhibition: - Screened in
EYE Filmmuseum Researchlab
, Amsterdam, the Netherlands, Feb 2019
- Selected for
The Soft Screening
, Witte de With Center for Contemporary Art, Rotterdam, the Netherlands, Apr 2019
- Exhibited in
Queer Bodies
, Korzo Theater, The Hauge, the Netherlands, Sept 2019 - Screened in
Extra: Queer Landing by Mini Maxwell
in
International Queer & Migrant Film Festival,
Amsterdam, the Netherlands, Dec 2019
- Screened in
Memory as Border/less
,
ge.stell
,
Taiwan, Nov 2021
- Screened in
Remnants and Reflections
, Women in Film and Photography, Objectifs, Dec 2021
- Exhibited in
LOVE+ Awakenings
, Pao Galleries, Hong Kong Arts Centre, Hong Kong, Nov 2022- Screened at
Imaginable Future - Hong Kong Short Film Programs
, Yale, New Haven, US, Apr 2023
- Exhibited at
EXPO Raak
, Transport Artspace, Maastricht, the Netherlands, May 2023